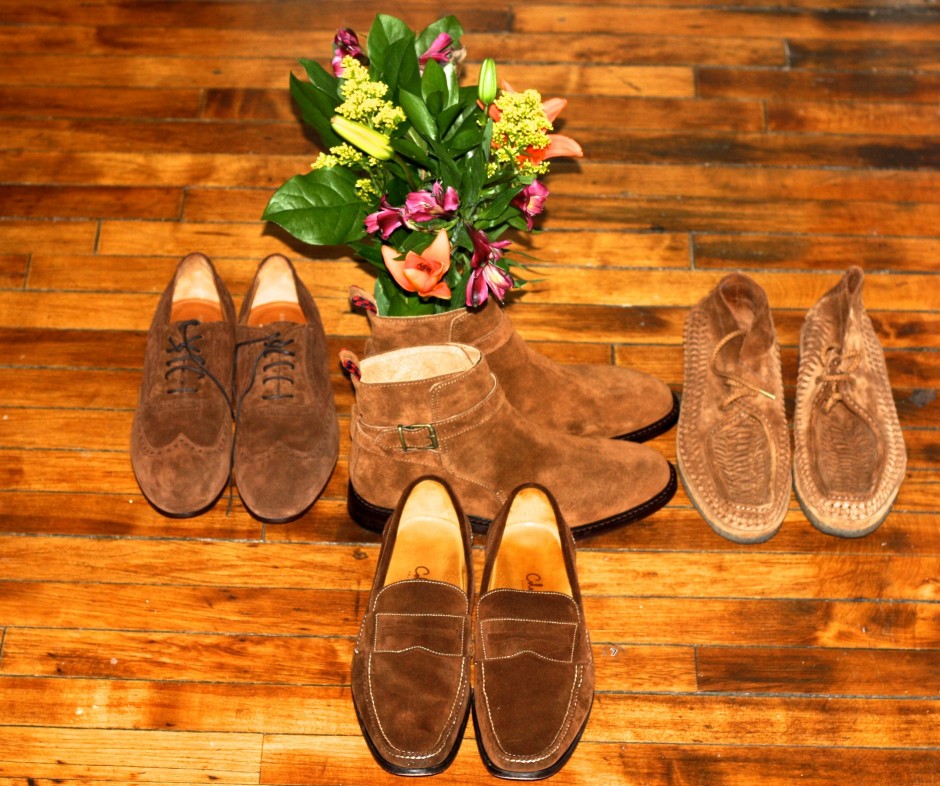 From my closet:
Brown Suede Wingtips (Antonio Maurizi), Brown Suede Jodhpur Boots (Ralph Lauren), Brown Suede Moccasins (Florsheim by Duckie Brown), Brown Suede Loafers (Cole Haan)
I'm still waiting for the weather to send the memo that Spring is officially here, but I can't wait until that memo to prep my closet.  I've turned my aesthetic into more of a darker palette, but I still plan on wearing brighter colors the spring and summer seasons.  So, aside from sneakers and colorful shoes, the most neutral and classic option for footwear is brown.  Brown suede is the best option because of its versatility.  I have a shelf full of brown leather shoes as well, but it's something about suede that translates better in casual or dressy situations.  A pair of brown suede double monkstraps trumps its leather cousin; both are essential, but if I want to wear double monks with denim, I'd be better off doing it in suede.
During the season of pastels, brown suede helps to soften your entire look.  There's nothing awesome about having a preppy, spring-inspired look with shiny black shoes.  Nothing.
 Rules for Wearing Brown Suede Shoes
1.  Don't be afraid of the rain – …. But be afraid of the rain.  This may sound a bit confusing, but just be aware that the rain can mess up your shoes, but not if you protect them before and after your wear.  If its a monsoon outside, don't be too brave and start your Fred Astaire choreography; it may not be wise to intentionally soak your shoes just because you sprayed them down with protectant.
2.  Keep them in the box – Because of its texture, suede is more prone to attract dust, which can cause discoloration.  After you wear them, and brush them down, put them in a shoe bag (Qtip: make good use of those canvas bags you have laying around your house) and box them up until the next wear.
3.  Wear sparingly – it's much better when you have more than one pair of suede shoes to choose from, but if you only have one pair, try not to wear them daily.  Unlike leather, suede isn't as visually pleasing with age.  Rule #2 will definitely help with the aging process, but everyday wear will bring everyday tear when it comes to suede.
You might also like: