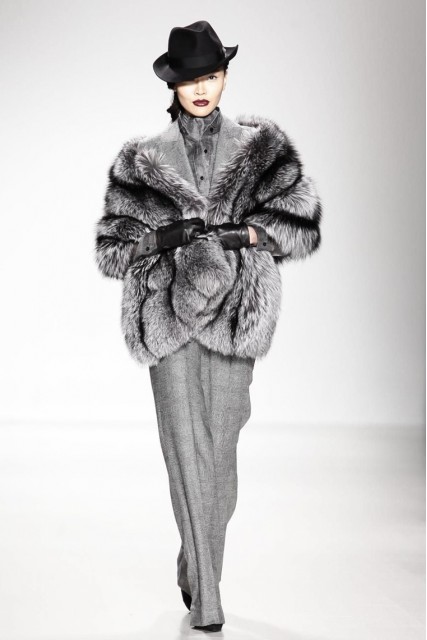 The jazzy, sultry beats and slick hits of the snare were met with the whisky movement of fur as the first look for the Zang Toi Fall 2014 collection emerged on the runway.   Inspired by Shanghai in the 1930's, the collection boasted an incomparable element of luxe; both native to Shanghai's Parisian influence, and Zang Toi's consistent aesthetic.  Starting with black and grey, the collection moved into jeweled tones of opium and jade; colors that lend themselves well to the premium fabrics used.  In true Zang Toi form, there is an attention to detail that cannot go unnoticed.  from two-toned capes, to the intricate beading, you see Zang's passion and craftsmanship in each piece.
The Zang Toi show always comes to life with the model lineup.  They aren't afraid to show off the movement and flow of the garments, bringing a confidence to the runway; a confidence that any lady or gentleman should have while wearing a Zang Toi original.
Speaking of gentlemen, the collection always includes looks for the Zang Toi man.  The logo piano cashmere suit in glen plaid was a show-stopper and would make a necessary addition to any man's closet.  For those more formal occasions, the collection included a velvet blazer with a cutaway detail that would set you apart from the standard formal theme.
Zang Toi Fall 2014 Collection
You might also like: