While aquatic performance is the mantra for the brand, the last few Fall seasons for Nautica have been a focus on tailoring, fabrics and styling. The Nautica Fall 2013 Collection was no exception, as style and sport were matched with a maritime expression of adventure. Inspired by Sir Ernest Shackleton, the Nautica Black Sail collection took us on a journey with the man who explores with a sense of style. For the man who takes on the harsh waters in the arctic, to taking time off to enjoy the city in a three-piece suit, the Nautica man doesn't let work and play live exclusively, much like Shackleton himself.
Colored shearlings were a great element to the collection, where colored cashmere brought an element of luxury to the palette that was typical of Nautica, yet deeper. Reds were fire and oxblood, blues were midnight, and grey and yellow rounded out the color scheme. In true trend, the collection boasted an array of black pieces to fulfill the Fall 2013 season. Taking a closer look at the details of the collection, there were pieces of outerwear with LED lights, adding technology to the runway.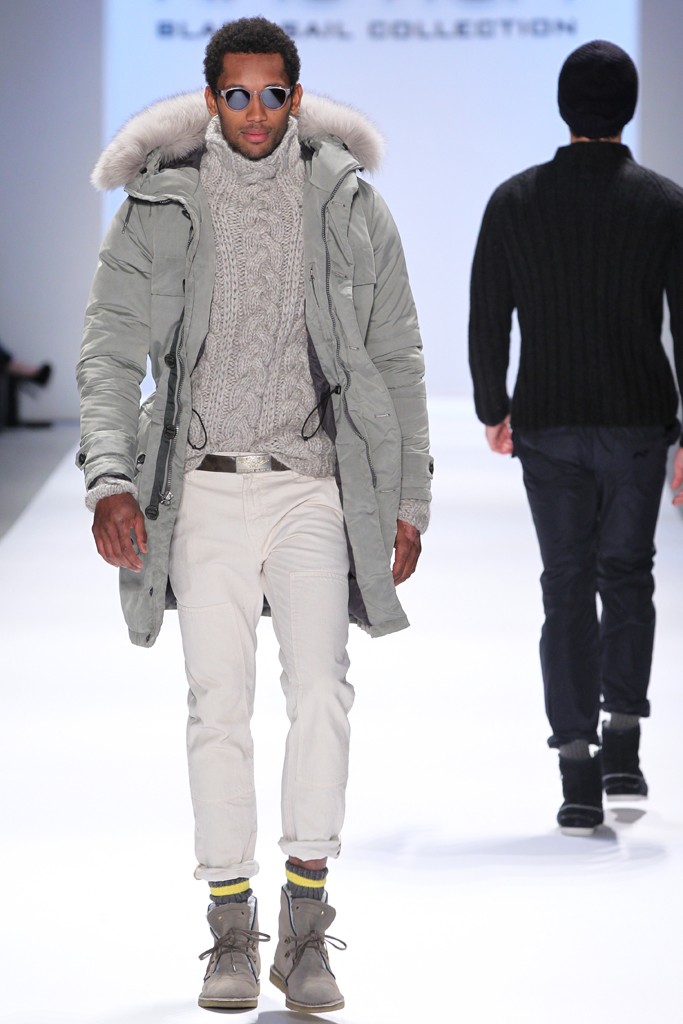 The standout piece was the stone waxed canvas snorkel jacket with fur hood. Perfectly styled with a cable knit sweater and grey boots, this look proved that Nautica understands how trend, function, and timeless classics are the essentials of menswear.
Top Looks from Nautica Fall 2013 Black Sail Collection:
You might also like: