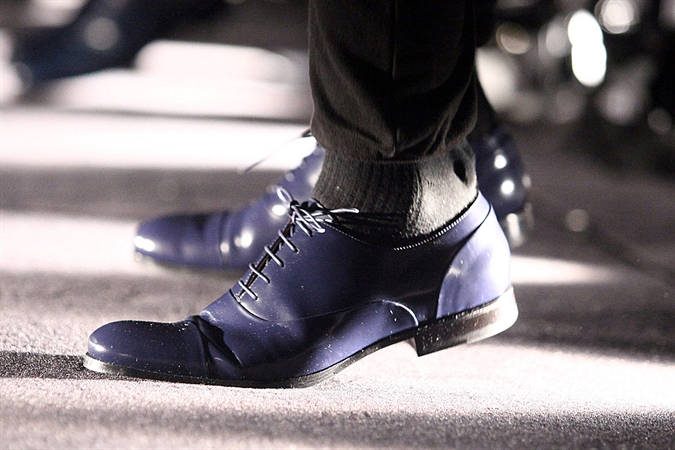 Who says a footwear runway show can't be exciting?  The Mr. Hare Fall 2013 Collection was proof that swift, stiff walks and mean mugs aren't always what defines fashion.  Designer Marc Hare must have known that his collection of forward-thinking, classically rogue footwear parties in calfskin needed to be matched with motion.  If plum double monkstraps weren't enough to catch your eye, the choreographed footwork definitely would!
You can always tell a classic shoe by the shape of the toe.  A narrow shaped rounded toe is a timeless addition to any man's shoe rack, and Mr. Hare's play with textures are just as timeless.   Reptile prints created a woven effect, where contrasts in leather and suede added complexity to a simple black colorway.
What's the point? Classic shoes can be fun.  As long as the elements of shape and quality leather are compromised, you can do what you want, where you want.  "From the swankiest clubs to the grimiest pubs" is what Mr. Hare says, and of course its an agreeable statement here on Avenue Swank!
You might also like: