Thomas Jefferson was a man of power, influence, charisma and style.  Impeccably dressed, like many during his time, his aesthetic eye was just as respected as his political acumen.  With the recent release of the new biography Thomas Jefferson: The Art of Power by John Meacham, there has been an increased interest in the Jeffersonian mindset.  As founder of the University of Virginia, my alma mater, I decided to honor one of my favorite Thomas Jefferson quotes by styling it in orange and blue.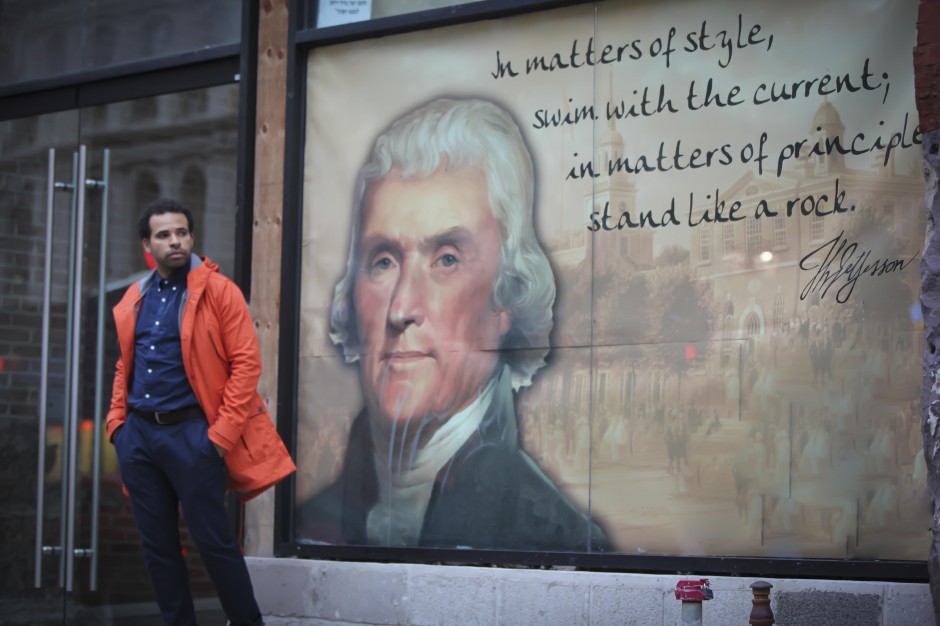 "In Matters of Style, swim with the current…" – I believe that personal style, no matter how unique you claim, is heavily influenced by current trends.  Even with classic looks that are timeless and re-inventive, your execution of your look was based on colors, accessories, and aesthetics of today's fashion. Vintage is a trend, preppy is a trend, boho is a trend… all current.. all trends, but its up to YOU to create your own interpretation of it, making it your own matter of style.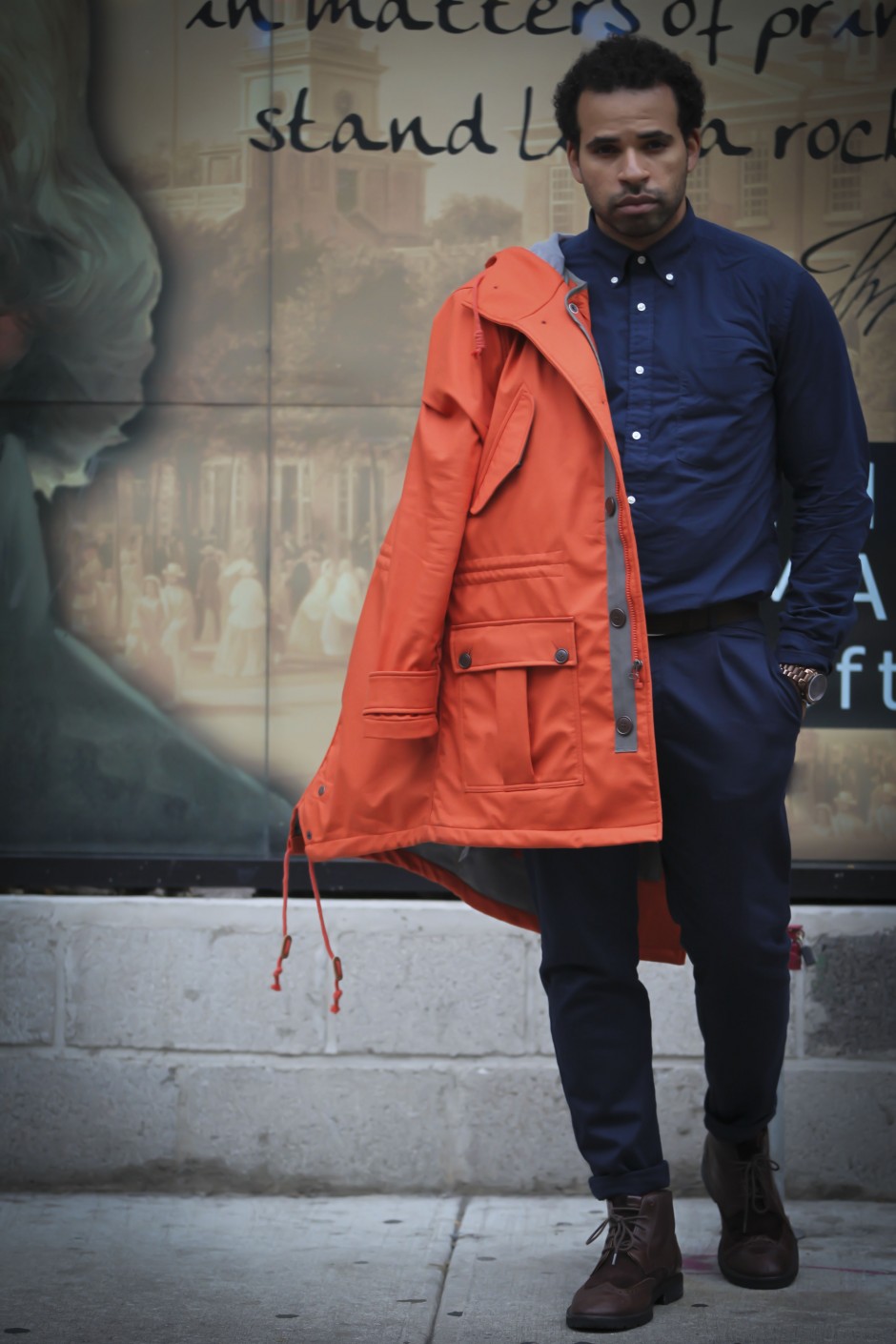 Navy is my black.  I love wearing all navy, and could do it every day if given the chance.  Its such an easy color to block, especially in Fall when outerwear is a necessity.  This pair of pants by Zara has become my new denim – I mix and match them with nearly everything.  Pleats are back, and are an easy way to add dimension to your looks; and if you are larger in the legs, you should welcome pleats with open arms.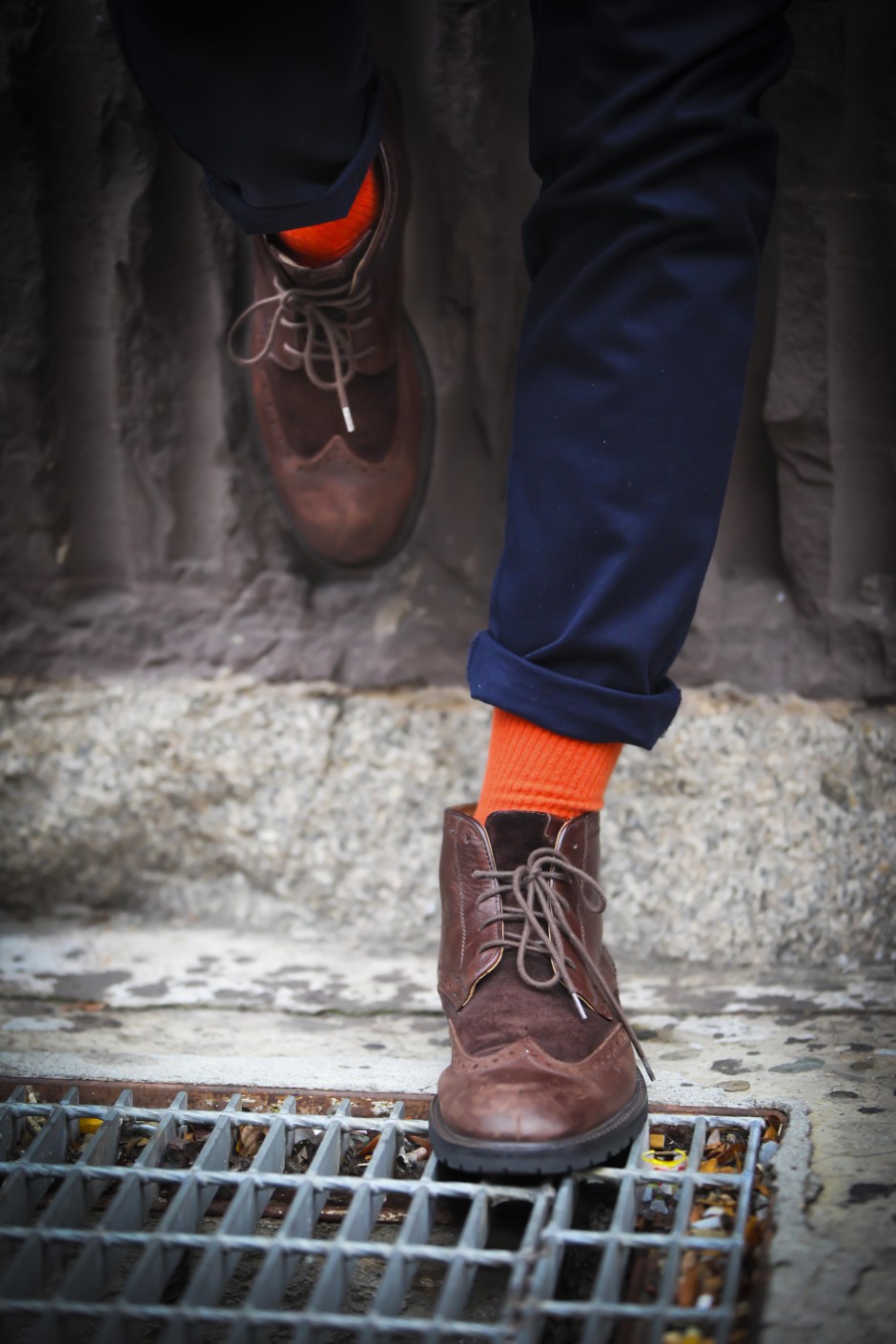 This pair of boots by Florsheim is a classic staple for dressing up or down a look.  Contrasting leather and suede in a wingtip style is perfect for this look, or paired with a navy suit.  Brown shoes also work well when you're adventurous in your sock game.  You can essentially pair any color or pattern with brown shoes, almost disregarding the color of your pants.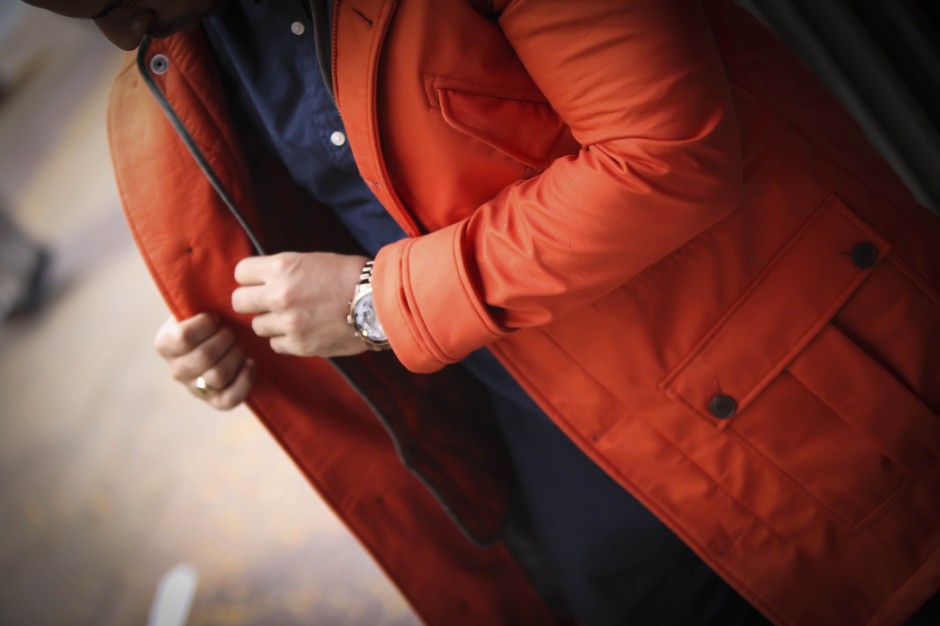 The orange parka by Todd Snyder for GAP x GQ has the perfect fit and function, with the detachable quilted vest that add extra warmth as the months grow colder.  The color is rich, and the fish tail adds a current element to a classic piece of outerwear.
Credits:
Photography: Kamal Silvan
Jacket: Todd Snyder for Gap x GQ,  Shirt: Uniqlo,  Watch: Michael Kors, Pants: Zara, Socks: Uniqlo, Shoes: Florsheim
You might also like: