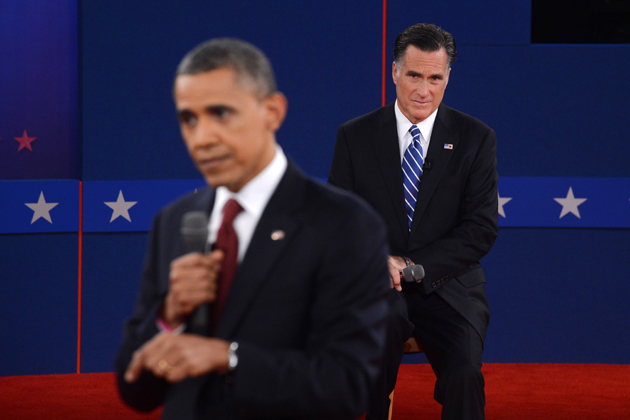 Aside from the economy, the 47%, and Obama's true reaction to the Benghazi attacks, there was another method in determining the winner of the Presidential Debates.  Look past Oama's sleepy, annoyed expressions from the first debate, and Romney's .  There was a more visual, more style-centric difference that should have been noticed during the debates, and that was the position of the red tie.  In the first debate, Mitt Romney wore a diagonal-striped red tie while Obama opted for a blue; a natural choice for both as they color code according to their affiliated party.  In the second debate, Obama chose a deeper red (we'll be trendy and call it  "ox blood") tie whereas Romney wore a blue diagonal-striped (Romney's trend is diagonal, which some could call synonomous with many of his views).  In both debates, the red hue was on the neck of the declared winner. 
Pschological research shows that the color red exemplifies energy and attention.  Since assertiveness was the key that won each debate, for political purposes, this theory seems to hold true.  Perhaps men in all professions should add red ties to their wardrobe.  With ox blood and merlot being such hot colors this fall, incorporating the color with a tie will be an interchangeable way of keeping your looks modern and timely.  
The last debate for the 2012 Presidential election is tonight from Boca Raton, FL.  Tune in to see how each candidate outlines their views on forgeign policy, and to see which one wears red.  If both wear red ties, then you know their communciations team got the memo!
You might also like: