With less than two months until elections for the 2012 Presidency, politics and pop culture have come to true tandem; the biggest decision for the next four years is in all forms of the creative space, and have been magnified since the Obama era brought a sense of "new" to society.  Since 2008, we have seen many references to political figures, primarily President Obama, inserted into the fashion aesthetic.  First Lady Michelle Obama has become a fashion icon, being a muse and an aspirational consumer for many designers, and Obama has become quite the icon as well.  At the Diet Coke and GQ Blogger Bar today, Dao Yi-Chow of Public School, said that Barack Obama would be the ideal public figure for his brand.  Here are a couple looks from the Spring 2013 Collections that drive consciousness to the elections; some more subtle than others: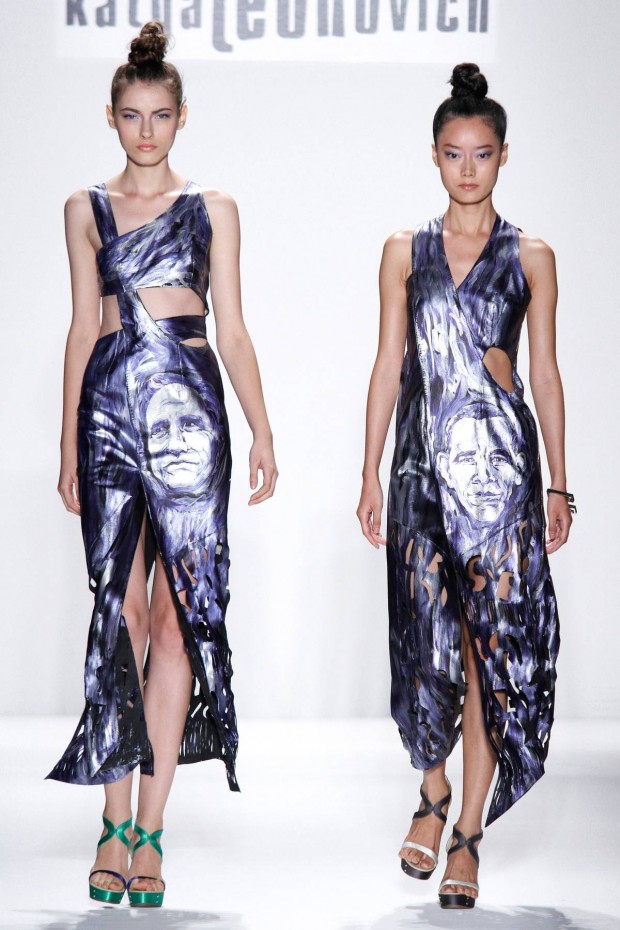 Katya Leonovich's final looks included her own paintings of Barack Obama and Mitt Romney; inspired by her own daily dose of seeing them on the news
Libertine made a statement in a more satirical way; using a play on a popular phrase that should be obvious.
You might also like: