There was no invisible Obama tonight (although Kal Penn of "Harold and Kumar" fame gave us some very eloquent comic relief tonight #sexyface), but the Democratic Convention opened today with a visible, larger-than-life bang.  From promising leaders such as Cory Booker and Julian Castro, to the uber-energetic speech by Massachusetts Governor Deval Patrick, the convention gave fuel and vitality to a party fighting to keep itself Forward for 2012.  The committee should be commended for the choreography of the night; the energy built up throughout the entire day, and from speaker to speaker, you couldn't help but be that much more engaged to make a difference for this country.  There was no mistake that many of the viewers and audience were anticipating the entrance of our FIrst Lady Michelle Obama, and her presence was not in vain as she gave a very powerful, emotional, and inspiring speech about the state of our country, and the humility and overall relatability of our President, Barack Obama.
If you want to know what Michelle Obama wore for her DNC speech, she wore a custom dress by talented designer Tracy Reese, paired with J Crew shoes. From first look, the fabric and shape of the dress looks like a Tracy Reese original, and, being African American, Reese knows how to create designs that compliment the fit of a curvy woman.  The lighting of the stage did not give the dress justice however; the fabric seemed to reflect too much of the light, and you couldn't get the full effect of the rich color and detail of the dress.  Still photos have definitely made the dress look better than it did with the house lighting.
Here are looks from Tracy Reese's recent Collections to give you a feel of her aesthetic
If you want another fashion moment from the FLOTUS speech, check out the style of Sasha Obama as she sits with her father President Obama and sister Malia.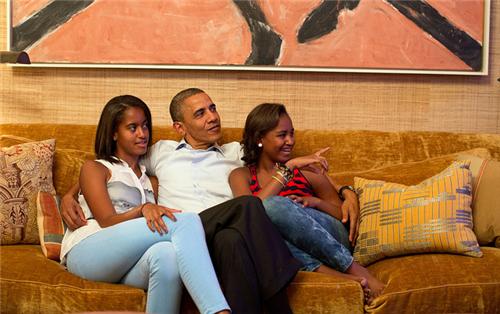 Only for the first seconds of her entrance could you think about her fashion, because that speech leaves her external appearance, though beautiful, a distant memory.  Her words will last much longer, and should inspire you to vote – are you registered? Do you have valid ID? Take action!
You might also like: