The 64th Annual Primetime Emmy Awards were aired tonight on ABC, and big winners were Game Change, Homeland, Modern Family, and of course Mr. Louis CK. With big individual wins from some of the best big screen actors, it seems that there is a conformity among TV and film, as many of our favorite movie actors are starring in our new favorite series. It also seems that with this new awards season, our favorite Hollywood stars are conforming to the idea of true style from head to toe. The Red Carpet was composed of more winners than losers, and unless the true losers bypassed the Red Carpet, the worst looks were simply not-quite-the-best-but-far-from-sucking.  That's alot to take in, but it makes sense if you watched the Red Carpet arrivals.
There were a few trends that were seen throughout the night; yellows, sea foam, and merlot were the colors of the night, and Monique Lhuillier, J Mendel, and Christian Siriano had quite a few notable moments as well.  For the gents, simple went a very long way, as the men of Hollywood wore simple black tuxedos, simple (or zero) hardware, and black bowties. A few took risks with velvet, as seen with my best dressed Jim Parsons, and peak lapels were big wins with John Hamm and others.
Below are my favorite moments from the 2012 Primetime Emmy Awards Red Carpet arrivals.  Check it out, and of course be vocal if you don't agree!
2012 Emmys Red Carpet Fashion Rundown:
Gennifer Goodwin - Best Dressed Female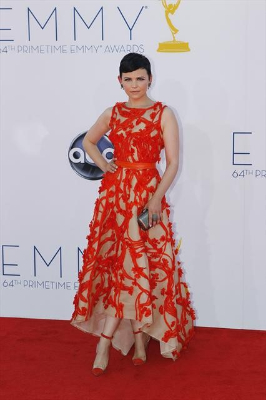 Picture 1 of 9
Monique Lhuillier makes beautiful gowns. It takes a stellar woman to wear it and make it edgy as supposed to just pretty. Gennifer Goodwin had the total package tonight to create a glamourous, yet edgy look for the Red Carpet. The hair, makeup, and the perfect gown from Lhuillier's Resort 2012 Collection were the perfect combination for the Emmys.
You might also like: