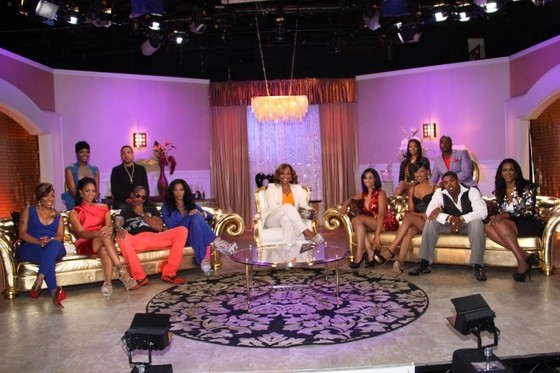 Part One of Love and Hip Hop ATL Reunion aired tonight on VH-1 and it should have met all expectations based on the way the season went.  Fights, lots of hair, and Stevie J's facial expressions were front and center during the reunion, along with producer Mona Scott who is still making money for the big producers by exploiting (or in her words "telling the story") these women.   I learned a lot  (sarcasm) while watching the Love and Hip Hop Atlanta Reunion tonight – many things that were explicitly said, or just implied by the way they were dressed.  Put on your thinking caps and find a special place in your mind to retain this "knowledge" from such an enlightening show.
– Mona Scott produced, edited, and watched the entire season and still stands behind the show being a success.
– All women have been cheated on.
– Mimi knows all women.
– Joseline danced for Lil Scrappy.
– Every man in ATL is named Lil Scrappy.
– "Getting teeth done" is now a mainstream plastic surgery for both women and men
– "Put the paws on him" is a very masculine term that drag queens stole for their own use.
– Joseline is a "woman of god" – This can't be judged by anyone, but I am positive she was referencing U-god from the Wu Tang Clan.
– Pink and red can work together.  Red shoes are acceptable when the bottoms are leather.  Graphic polo shirts negate all things that work.
– Vests.
– Integrity and talent can be challenged, but never talk about anyone's bags under their eyes.
– There is a Shenelleca in whit world t 1. Is actually named Shenelleca, and 2. Now knows where her ID went after the club that night.
– Momma Dee will say "and in that order" until you apply directly to your forehead
– MiMi is auditioning for deputy poet laureate for the city of Atlanta
– Karlie has a new rap song with the accompaniment of BB King.  Its more her speed.
– Be skinny, loud, throw on a wig, leave your 5 o'clock shadow, and you can ask any question you want.. even when you already answered the question in your question
– In Spanish linguistics, it really is pronounced "Steebie".. You see the v is a soft b in the language.
– Keyshia Cole is really busy with this show and her new show with her husband.
Part two of the Love and Hip Hop ATL Reunion aires next week – lets see what we "learn" then! 
You might also like: