The 2012 London Olympic Games ended tonight, with a festive closing ceremonies, as Olympic athletes could relax after days/months/years of training and preparation for 17 days of dreams coming true!  The closing ceremonies, much less formal than the Opening Ceremonies, featured more performances and personalities (where has Fat Boy Slim been??) and had much more fashionable moments aside from the style (or lack thereof) of the parade of nations.  As a celebration of British influence, the closing ceremonies could not end without a section about an era of fashion that still holds inspiration in today's trends.  Mod was born from this era, as well as some very talented designers and models which are mentioned below, as well as other fashion moments of the 2012 Olympics Closing Ceremony.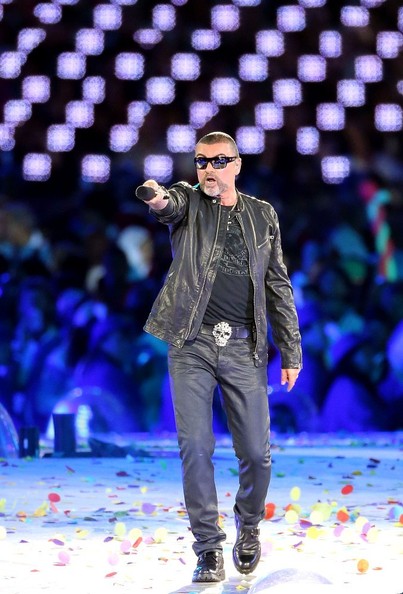 George Michael didn't really exude any sense of style on stage tonight, but the music video for Freedom was definitely one of the most fashion-forward videos of all time – pioneering the power of adding fashion to music.  It was the first time you saw the Thierry Mugler motorcycle piece (well before the Beyonce album spread, and definitely before she could even pronounce Mugler)
Naomi Campbell and Kate Moss, two Brits who have totally reigned over the supermodel world for longer than some of the new models have been born, entered the ceremony wearing gold pieces from British Fashion House Alexander McQueen.  Other British models, like Georgie Mae Jagger and Jourdan Dunn, were also a part of the fashion feature, popping out of their own life-size cutout from the "Midas Touch" spread shot by Nick Knight for Vogue. The musical accompaniment of David Bowie was so befitting for the tribute, being that Mr. Bowie is married to another iconic model Iman.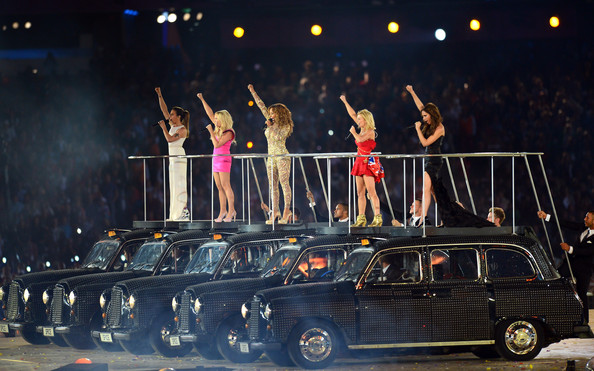 Posh Spice, along with her Spice Girls gave us what we really really wanted for years!  This reunion was perfect, maybe not the actual singing, but the literal reunion was a great addition to the closing ceremony.  The post-Spice Victoria Beckham also had one of her looks featured with the British Designer tribute, worn by Georgia Mae Jagger.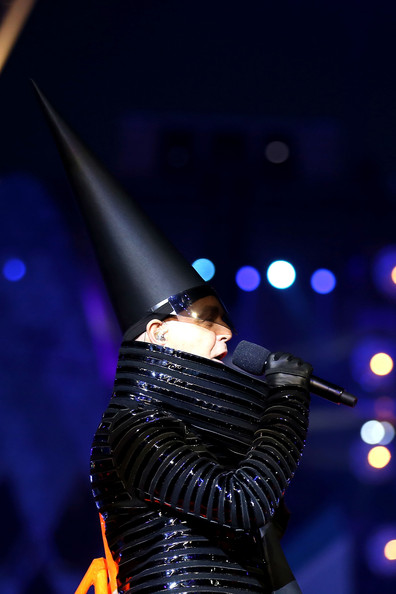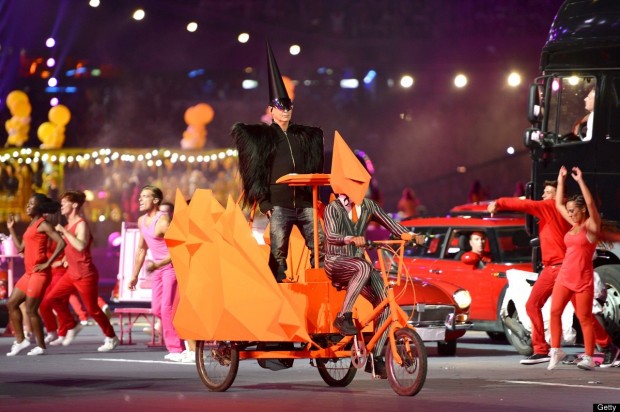 Coneheads wasn't born in Great Britain, but the Pet Shop Boys made it uber fashionable for the stadium, wearing cones and Margiela-esque jackets made of hair.  The men in pinstriped suits riding bikes with orange cones on their heads was another sartorial touch to the performance.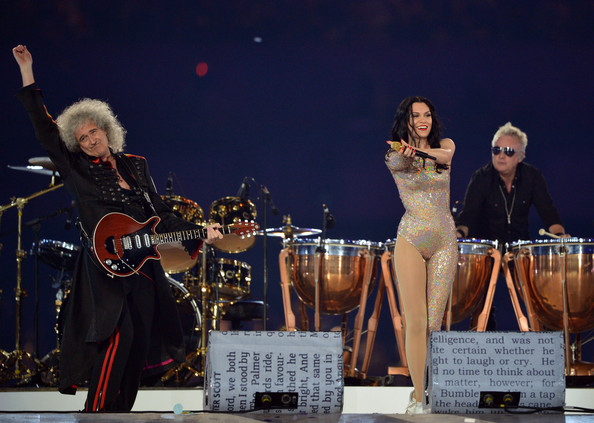 If you want to talk about a great vocal performance, then we have to mention Jessie J as she strutted out to the center of the stadium to sing Queen's hit "We Will Rock You,"  wearing her own version of the one-leg leotard made famous by legendary sprinter Florence Griffith Joyner.
As the torch was passed to Rio de Janeiro, so was the model focus, as Victoria Secret Model Alessandra Abrosio strutted the stage in a look that could be in the next Victoria Secret runway show – with a little more skin showing of course.. but hey, there will be plenty of skin as "fashion" at the 2016 Rio Games!!
You might also like: